A Level/KS5 Results Day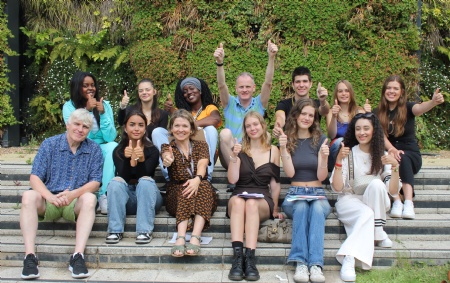 Post 16 results
17 August 2023
We are exceptionally proud of the achievements of this year's Y13 students who have performed exceptionally well.
Students completing sixth form in 2023 were in Year 10, at the start of their GCSEs, when schools closed for national lockdown in March 2020. They returned to disrupted schooling in September 2020, before going to online learning in January 2021. In March 2021, they were told exams would be cancelled for a second year. They joined LaSWAP on the back of teacher assessments. The exams they sat this summer were their first ever public exams.
Nicholas John, Headteacher, said:
We are delighted with the results achieved by our students. They faced disruption during some of the most crucial periods of their schooling, and yet have managed to do impressively well.
We are particularly delighted with the destinations achieved. In a year when nationally results went down, our standards held up consistently well across a wide variety of courses.
Cllr Sabrina Francis, Camden Council's Cabinet Member for Young People and Culture who is also a former Mayor of Camden, met with LaSWAP students when they received their results this morning.
Acland Burghley students have been accepted on a range of prestigious and exciting courses. Just a few examples of their varied & exciting success:
Sara Bardulete – Eng. Lit A*, Art A*, Psychology A* – reading Concept Art for Film & Game at Staffordshire
Ruby Scaife – Sociology A*, Geography A*, EPQ A*, Art A – reading Geography at Glasgow
Eliza Clapcott – Biology A*, Chemistry A*, Spanish A – reading Medicine at Liverpool
Layla Mowatt – Further maths A, Geography A, Maths A*, Psychology A – reading Geography at Edinburgh
Jay Fleischmann – Biology A*, English Literature A, Psychology A* – reading Law at Sheffield
Rayyan Lodhi – Double Distinction* in BTEC Applied Science, with a C in Psychology and an EPQ – taking a Gap Year
Theo Macleod – A grades in Art, Film Studies, Politics – going onto an Art foundation degree.
Rinda Rama – Sociology A*, Politics A, English Literature B – reading Law at QMUL
Overall, out of 294 entries, 14% were at A*/A.