Summer Holiday activities
Camden
Paid Opportunity for under 25s
Wonderful paid opportunity for young people under 25 who live in Camden for the holidays (part time x 3 months). It offers practical experience in conservation and practical work in the Heath. Of interest to those keen in environment, love of nature, Sciences or who just want to get stuck in/need to get confidence. It will be outdoors and Covid safe.
Find out more here: https://www.heath-hands.org.uk/work-for-us
Holiday Activities and Food programme: letter to eligible families attached
The DfE-funded programme of Holiday Activities and Food for children and young people aged 5 to 16 started with one week during Easter and we are now offering four weeks of activities for this summer with a further week during the winter.
Over 30 providers have now signed up to offer various activities for the summer, together with at least one meal a day, with space for up to 2,000 children to take up the free spaces.
The link to the booking website is: https://haf.youngcamdenfoundation.org.uk/
In addition to the above HAF programme, families with children aged 0 to 18 who receive benefits and whose children attend a Camden school (the same cohort as in previous holidays) will receive £45 per child for the six-week holiday, with vouchers being posted directly to families home address by the Council's Benefits Team.
Summer letter to parents July 2021
Fresh Youth Summer Programme 2021
Please find attached Fresh Youth's Summer Programme and the online registration link.
We will be running a 5 week Summer Programme from the Monday 26th July – 27th August 2021.
Please note spaces are limited and only young people registered will be allow to attend. https://forms.office.com/r/kDF5J5vA5K
Lunch will be provided during each session during the summer.
Summer-Fresh Youth Timetable 2021
Camden Youth Services summer activities programme and Camden Summer guide
There's lots of activities on offer for children, young people and families over the summer holidays.
Youth, play and leisure centres across Camden are running packed programmes - and to help young people and their families to find out what's on for young people in the Council's main Summer Programme page.
The Council has also launched a new website for children and young people, called Camden Rise, where local activities, opportunities and support is all brought together in one place in a way that is much easier for young people to find what they're looking for.
Camden Summer University
Camden have over 80 courses - each lasting either a day, a few days or a whole week. Courses are available throughout the summer, ranging from first aid, football and fashion to Caribbean cooking, journalism and life drawing.
Students must be aged 13 to 19 and living or studying in the London Borough of Camden, or attending a Camden Council-run youth centre. For more details and to apply, please click here: https://www.cmdn.co.uk/
Young Camden Foundation
Established in 2017, Young Camden Foundation (YCF) is a registered charity set up to address the growing uncertainty of long-term investment in the children and young people sector in Camden and the need to build more cross-sector partnerships. YCF aims to provide a new model of local support for its members, which includes building capacity and better equipping the community with resources and funding, connecting and working with organisations to develop new and entrepreneurial approaches to supporting young people and championing critical issues facing the local community.
To find out more or, if you have any immediate questions, please get in touch with the YCF team at info@youngcamdenfoundation.org.uk
Summer in Camden launches
After a year like no other, the school summer holiday is approaching. The Council and local partners, including schools and early years services, are excited about offering children, young people and families an amazing range of free and low cost activities for ages 0 to 19.
It is great news that at last we can offer the opportunity for Camden's community to come together safely to enjoy an ambitious programme of sport and fitness, arts and creative activities, play, activities with lunch included, as well as life skills, baking and cookery, health and wellbeing, advice, support and work experience.
Parents, carers and pupils / students can now visit our new https://www.summerincamden.co.uk/ website to search for activities by age, date, types of activities and venues.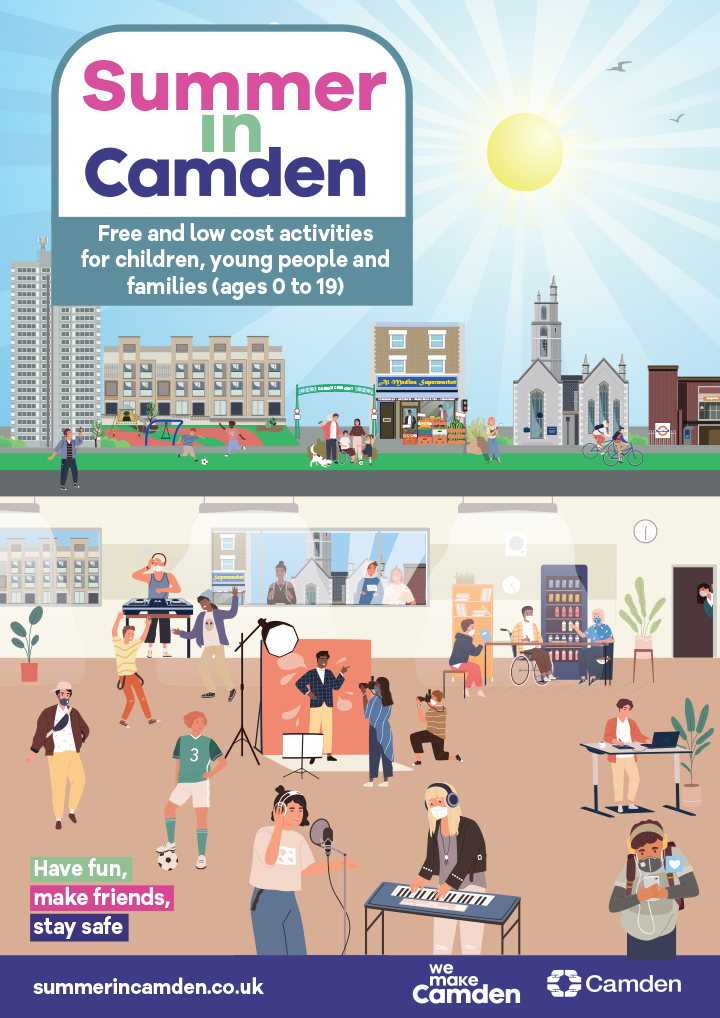 Islington
Launchpad and Summerversity
For over 20 years Islington Council has been funding free activities and opportunities over the summer holidays.
Summerversity gives young people aged 13+ who live or go to school or college in Islington the chance to learn new skills, develop interests and talents, make new contacts and most of all have fun.
The Launchpad programme helps young people 16+ prepare for work, careers and further education. Many courses offer accreditations leading to a nationally recognised qualifications – great for CVs.
This years programme has over 100 courses and events. It is all being coordinated by Isledon Arts CIC who have consulted with young people and then partnered with over 30 organisations to bring together this exciting high quality programme.
We will try to allocate places so that everyone who applies on time will get a chance to do at least two courses. We recommend that you register and book as soon as possible. Most activities are suitable for complete beginners and no previous experience is required.
This year, we have partnered with Islington Council's Lunch Bunch initiative and are delighted to offer a free packed lunch and most of the activities.
All the venues are fully accessible and covid-secure. Events (summerversity.co.uk)
Sport