The Assembly Hall project
We want to return the Grade 2 listed assembly hall to its original vision - an amazing performance space for our students and community. A place where our children can feel at home and inspired to learn, create and perform.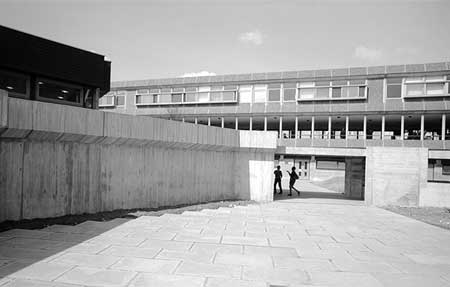 Our other fundraising campaigns
We are always keen to receive ideas from students, staff and parents for projects which need funding and will always work closely with the school to ensure the money is spent wisely and appropriately.
Better Spaces and Experiences
We are working hard to provide funding for extra-curricular opportunities and to improve the school environment. In recent years, we have supported the creation of an 'urban orchard', landscaped gardens, outdoor tennis tables and residential trips.
How you can make a difference
Standing Order
With a regular gift through a standing order, you can help us say yes to more music and drama productions; yes to inspiring guest speakers and class trips; yes to improved sports facilities and yes to better outdoor spaces and activities for everyone.
You can fill in this form or sign up on line:
One off Donation
You can make a single donation on-line by clicking on the donate button below:
If you would like to send a cheque please make it payable to Acland Burghley School Trust and send it to the address below. If you pay tax in the UK, don't forget to download the gift aid form. Acland Burghley School Trust can reclaim the basic rate tax (20%) on your gift. So, if you donate £10, it is worth £12.50 to the Trust.
Give As You Live
If you shop online register with Give as you Live here. This will mean retailers funnel a few pennies from their profits to the Trust every time you shop online with no cost or hassle to you. Each person who signs up is worth on average at least £25 a year to Acland Burghley, so if every parent signed up we could raise £50,000 a year!
Help Create A Network Of Support
You can also support through helping us fundraise and introducing us to other potential supporters such as businesses or alumni who are interested in Acland Burghley. We are always looking for people who might have some skills, connections or experience that can be help us raise funds for the school.
If you think you might be able to help please email us at: abstrust@aclandburghley.camden.sch.uk

If you are a former student make sure you sign up to our Alumni network.
Your Privacy
Our Commitment to you


We are responsible for protecting your personal information, and we take this responsibility very seriously.
We want you to be happy with the information you give us, understand how it is used, know that we treat it with care, and know that you have the right to withdraw your consent at any time.
We promise to only collect personal information (or 'data') from those who directly interact with us: supporters, donors, fundraisers, event attendees, volunteers, and those who visit our website page.
We are the 'data controller' in respect of your personal information, and are responsible for what happens to it, where it goes, and who sees it.
We will never sell your data to third parties for their own marketing needs.
We will collect the minimum personal information we need, limited, where relevant, to your:
Name
Age/date of birth
Gender
Contact number(s)
Email address(es)
Postal address
Contact preferences
Information for 'market analysis'
Records of fundraising events you've attended
Campaigns you've supported
Record of your contact with us – whether a query, compliment, or complaint.
We will only obtain and use this information, where relevant, to:
Raise further awareness of the Charity and the work we do
Help raise further funds to advance the education of pupils at Acland Burghley School
Learn how best to contact you (and what about)
Keep a record of your support
We will keep your data for personal information for:
As long as you are an active donor, or fundraiser – and only for as long as necessary after your last interaction with us.
Up to six years in relation to Gift Aid (in compliance with HMRC regulations)
Up to seven years if you work for or volunteer with us
As long as is necessary in relation to children attending our respite breaks
As long as necessary if you have pledged a Legacy to us.
You can opt out of receiving communications from us at any time.
We will only be able to send communications, updates, or information to those who have stated they are happy for us to do so.
You can request to access, change, or delete your information at any time.
We will share your personal information with Acland Burghley School. We will share your personal information with other carefully selected third party partners, where relevant – and never for third party sale purposes – for:
Secure storage
Sending printed material (newsletters, updates, magazines, appeals) via a supplier
Securely processing Direct Debits through CAF Bank and CAF Donate.
Collecting any survey answers through a research agency
Securely processing donations from giving platforms, using our partners
The previously mentioned third parties can only act on our instructions, in line with our contracts with them, and cannot use your personal information for any reason outside of those instructions, or sell those details to any other organisations.
We will protect your personal information by:
Only keeping it for as long as is strictly necessary
Only passing it to carefully selected third parties
Securely destroying your personal data after the need for it has expired
Acting upon any requests to view, change, or delete your information, within 30 days.
If you are unhappy with how we've handled your personal information, or a complaint you've made in respect of this, you have the right to contact the Information Commissioner's Office.
Who we are:
The Acland Burghley School Trust is a UK charity registered with the Charity Commission (Charity Number: 1002280), and registered address is Acland Burghley School, Burghley Road, London NW5 1UJ. We are registered with the Information Commissioner's Office (ZA464961).
Your rights
You have the right to:
Ask what information we hold about you – and be given that information
Ask us to correct, change, or update any information we hold about you
Withdraw your consent for us to use your information
Ask us to delete your information entirely
Make a complaint or ask any other question in relation to your information
In relation to fundraising, legacies or donations, you have the right to opt out of communications
If you wish to do this, please contact email abstrust@aclandburghley.camden.sch.uk or write to us at the above address.
About the School Trust
Acland Burghley is proud to be a school where learning and creativity are celebrated. Students are encouraged to be ambitious for their future, and work hard to achieve their goals. The school community is more driven than ever, and achieving so much.As a state school government funding is limited. Sadly, this means it's hard to cover the costs of providing each student with the extra-curricular opportunities and creative environment that we believe is so important.That's where The Acland Burghley School Trust comes in. A registered charity, it has been set up to raise funds for the school to support those opportunities and the education of all our students.
Who we are
If you would like to talk to us about how you can help, or just have a question about your donation, please do contact us.
The current Trustees are:
Celia Grace (Chair)
Madeleine Holt
Claire Melamed
Kat Miller
Tim Longfoot
Contact us
Acland Burghley Trust
c/o Finance Manager
Acland Burghley School
Burghley Road
London
NW5 1UJ
abstrust@aclandburghley.camden.sch.uk
020 7485 8515
We are registered with the Charity Commission and our registered charity number is 1002280.